Searching Birdingpirineos.com
BIRDS, ECOSYSTEMS and BEST SEASONS
Define search criteria: birds, ecosystems or seasons and consult the Birding Pyrenees database.
Sky Lark
Ecosystems: GRASSLANDS, MEADOWS AND FARMLAND
Seasons: January | February | March | April | May | June | July | August | September | October | November | December |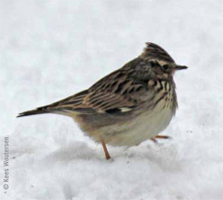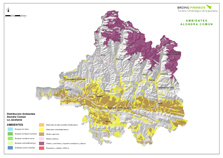 SCIENTIFIC NAME: Alauda arvensis
FAMILY: Alaudidade
DESCRIPTION: The Skylark has a thin, longish beak, and is streaked on its breast and flanks, and white underneath. The tail is dark and is edged with white feathers. The nail of the back claw is long and straight enabling it to run on the ground. Although a ground-dwelling species, the skylark can sing for lengthy periods while hovering at considerable heights. It makes its home on farm and pastureland.
STATUS IN ARAGON: Ri Nr (Resident, Winter visitor – Breeds regularly)
BREEDING PROBABILITY: Breeding highly likely
REPRODUCTIVE: Yes

LOCAL STATUS: Resident
MONTHS: All
ECOSYSTEMS: Pastures, meadows and crops. – subalpine / alpine
DIET AND FEEDING: An omnivorous bird which changes its diet depending on the season: in spring, there is a predominance of vegetable grain; in summer insects; in autumn it lives off the seeds of cereals and weeds; and in winter, off leaves and the seeds of weeds.
HABITS: It usually nests at ground level among low creeping vegetation and crops. In La Jacetania it spends the summer in the cool areas provided by stony outcrops and permanent snow fields, and in winter it is common to see them in the fields of crops along the Berdún Canal.

THREAT OF EXTINCTION + CRITERION: CNEA (National Catalogue of Endangered Species): No threat CREA: Not included
ROUTES: 9 (Foz de Biniés) and 10 (Puente la Reina – Arrés and Martes scrubland)
SPATIAL DISTRIBUTION: Mediterranean scrubland, open cultivated land and pastures, subalpine and alpine rock faces and stony outcrops.