Searching Birdingpirineos.com
BIRDS, ECOSYSTEMS and BEST SEASONS
Define search criteria: birds, ecosystems or seasons and consult the Birding Pyrenees database.
Hen Harrier
Ecosystems: GRASSLANDS, MEADOWS AND FARMLAND
Seasons: January | February | March | April | May | June | July | August | September | October | November | December |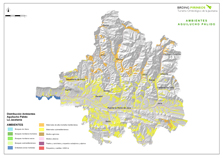 SCIENTIFIC NAME: Circus cyaneus
FAMILY: Accipitridae
DESCRIPTION:
Smaller than the Marsh Harrier, the male is pale grey above and white underneath with black wingtips. The plumage of females and juveniles is brown, which is dark on the upperparts and paler below. It has a low rate of reproduction, with numbers increasing in winter with the arrival of other birds from more northerly latitudes, which gather at night in colonies in wetlands and amongst the reeds.
STATUS IN ARAGON:
Ir Nr (Winter visitor, resident – Breeds regularly)
BREEDING PROBABILITY: Breeding likely
REPRODUCTIVE: Yes
LOCAL STATUS: Resident
MONTHS: All
ECOSYSTEMS: Riverside, pastures, meadows and crops
DIET AND FEEDING: It hunts small and medium vertebrates, different birds, reptiles and some large insects
HABITS: During courtship, the male and female go through some stunning acrobatic routines. The nest is built on the ground amongst dense vegetation.

THREAT OF EXTINCTION + CRITERION: CNEA (National Catalogue of Endangered Species): Not classified: CREA: Sensitive to changes in its habitat
ROUTES: 9 (Foz de Biniés), 10 and 11 (Scrubland along the River Aragón)
SPATIAL DISTRIBUTION: Lakes and wetlands, Mediterranean high mountain scrubland, submediterranean scrubland, open cultivated country.