Searching Birdingpirineos.com
BIRDS, ECOSYSTEMS and BEST SEASONS
Define search criteria: birds, ecosystems or seasons and consult the Birding Pyrenees database.
Marsh Harrier
Ecosystems: GRASSLANDS, MEADOWS AND FARMLAND
Seasons: January | February | March | April | May | June | July | August | September | October | November | December |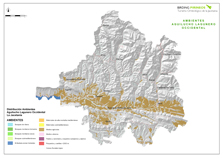 SCIENTIFIC NAME: Circus aeruginosus
FAMILY: Accipitridae
DESCRIPTION:
With its sleek and slender profile, this harrier normally flies at low altitude and speed, with its wings forming a V as it scrutinises the ground. The plumage of female birds and juveniles is a dark brown with cream coloured markings on the head and shoulders, whilst the male has a grey tail, and grey wings with black tips. It occupies areas covered in reeds (for nesting and roosting) surrounded by crops (forming its hunting ground) and remains in the region all year round.
STATUS IN ARAGON: R Nr (Resident - Breeds regularly)
BREEDING PROBABILITY: Breeding highly likely
REPRODUCTIVE: Yes
LOCAL STATUS: Resident
MONTHS: All
ECOSYSTEMS: Riverside, pastures, meadows and crops.
DIET AND FEEDING: This harrier hunts small mammals, reptiles and birds, and when its usual prey is thin on the ground, it can also scavenge on carrion.
HABITS: The female builds her nest with twigs and reeds, which are greater in abundance the closer it is to the river. Desiccation, pollution or the destruction of wetlands is the main cause of the bird's disappearance, followed by the use of pesticides, agricultural transformations, and the plundering of nests.

THREAT OF EXTINCTION + CRITERION: CNEA (National Catalogue of Endangered Species): Not classified: CREA: Not included
ROUTES: 9 (Foz de Biniés), 10 and 11 (Scrubland along the River Aragón) and 13 (San Juan de la Peña)
SPATIAL DISTRIBUTION: Lakes and wetlands, low stretches of river, and open cultivated country.