Searching Birdingpirineos.com
BIRDS, ECOSYSTEMS and BEST SEASONS
Define search criteria: birds, ecosystems or seasons and consult the Birding Pyrenees database.
Golden Eagle
Ecosystems: FOREST
Seasons: January | February | March | April | May | June | July | August | September | October | November | December |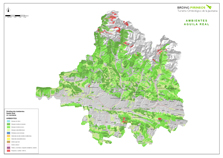 SCIENTIFIQUE NAME: Aquila chrysaetos
FAMILY: Accipitridae
DESCRIPTION:
Large raptor with long wings and tail, and with a mighty flapping flight number followed by a glide of seconds. It differs when planning because it keeps the wings slightly raised in a V. In flight, the underside of adults is dark brown and young people the same but with white patches on the wings and tail.
STATUS IN ARAGON: R Nr
BREEDING PROBABILITY: Breeding highly likely
BREEDING: Yes

LOCAL STATUS: Resident
MONTHS : All
ECOSYSTEM: Rupestrian - forest
EATING HABITS: He lives in uninhabited areas, preferably in mountainous areas. His thick beak and strong claws allow you to hunt all kinds of birds and mammals of medium size such as squirrels, rabbits, hares and marmots. It also feeds on carrion.
LIFE AND CUSTOMS: Builds a large nest of small sticks. In this area of the Pyrenees, which usually build on the ledges of the cliffs, and rarely in the canopy of large trees. It is sometimes difficult to see because it spends much time perched on the rocks or a tree, but in early spring we contemplate doing aerial displays in which the male takes the female simulated attacks drop while in flight.

EXTINCTION RISK + CRITERIA: National Catalogue of Endagered Species: Not classified. Regional Catalogue of Endagered Species: Not included.
BIRDING ROUTES: 4(Selva de Oza), 6 (Valle de la Garcipollera), 7 (Las Blancas), 8a (Somport), 8b (Canal Roya), 9 (Foz de Biniés) y 13 (San Juan de la Peña)
SPATIAL DISTRIBUTION: Mediterranean high mountain scrub, sub-Mediterranean forests, dry montane forest, montane forests and cliffs and crags wet <2000 meters.