Searching Birdingpirineos.com
BIRDS, ECOSYSTEMS and BEST SEASONS
Define search criteria: birds, ecosystems or seasons and consult the Birding Pyrenees database.
Alpine Accentor
Ecosystems: SUB-ALPINE / ALPINE
Seasons: January | February | March | April | May | June | July | August | September | October | November | December |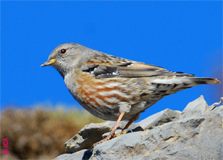 SCIENTIFIC NAME: Prunella collaris
FAMILY: Prunellidae
DESCRIPTION:
A plumpish bird with grey plumage, capable of powerful rapid. Up close, the pale spotting on its throat is clearly visible, along with the reddish-brown streaks on its flanks. The Alpine Accentor is found at high altitudes, whose summer haunts include even the highest peaks. Considered to be a partial migrant, in winter it moves to lower latitudes in the same region.
STATUS IN ARAGON: R Nr (Resident - Breeds regularly)
BREEDING PROBABILTY: Breeding highly likely
REPRODUCTIVE: Yes
LOCAL STATUS: Resident
MONTHS: All
ECOSYSTEMS: Alpine
DIET AND FEEDING: The Alpine Accentor feeds on insects and to a lesser extent, on pine kernels and fruit during the colder months of the year when it can often be seen hovering over the snow in search of insects trapped in the ice.
HABTIS: Rocky areas and stony outcrops, in patches of creeping shrubs, or near mountain refuges and ski resorts, without appearing to be frightened off by human presence. It builds its nest in holes in the rocks or in small fissures using roots, grass and leaves.

THREAT OF EXTINCTION + CRITERION: CNEA (National Catalogue of Endangered Species): Not classified CREA: Not included
ROUTES: 3 (Zuriza - Achar de Alano), 7 (Las Blancas - L.Huici mountain refuge), 8 (Somport - Canal Roya) and 13 (San Juan de la Peña)
SPATIAL DISTRIBUTION: Grasslands and stony ground, alpine and subalpine cliffs and crags.