Searching Birdingpirineos.com
BIRDS, ECOSYSTEMS and BEST SEASONS
Define search criteria: birds, ecosystems or seasons and consult the Birding Pyrenees database.
Eurasian Wryneck
Ecosystems: RIPARIAN
Seasons: April | May | June | July | August | September | October |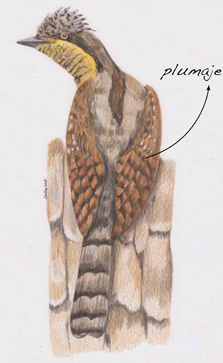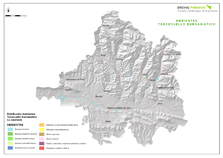 SCIENTIFIC NAME: Jynx torquilla.
FAMILY: Picidae.
DESCRIPTION: The Eurasian Wryneck can turn its neck almost 180 degrees. It has a thickly streaked dark brown plumage, which enables it to camouflage itself completely in the trees and bushes (cryptic plumage). It would go almost undetected if it weren't for its long spring call (a tui-tui-tui sound). Although it belongs to the woodpecker family Picidae, it does not bore holes in trees to obtain food or install its nest. It merely uses its swift, long tongue to extract insects from the bark.

STATUS IN ARAGON: E Nr(Summer visitor – Breeds regularly).
BREEDING PROBABILITY: Breeding likely.
REPRODUCTIVE: Yes.

LOCAL STATUS: Summer visitor.
MONTHS: March to October.
ECOSYSTEMS: Riparian.
DIET AND FEEDING: Ants and their larvae form the bulk of its diet, although it also eats beetles, moths and spiders, with the aid of its long tongue.
HABITS: A summer visitor that takes up residence in woodland areas with clearings in La Jacetania, preferably along the riverside. It arrives in the Pyrenees in April, with its autumn migration taking place between August and October. It builds its nest in hollows inside trees that have previously been bored by other woodpeckers. Without using any extra material, the female deposits her eggs, which hatch after a two-week incubation period.


THREAT OF EXTINCTION + CRITERION: CNEA (National Catalogue of Endangered Species): MISSING DATA.
RUTAS: MISSING DATA.
DISTRIBUCIÓN ESPACIAL: MISSING DATA.