Searching Birdingpirineos.com
BIRDS, ECOSYSTEMS and BEST SEASONS
Define search criteria: birds, ecosystems or seasons and consult the Birding Pyrenees database.
Green Woodpecker
Ecosystems: RIPARIAN
Seasons: January | February | March | April | May | June | July | August | September | October | November | December |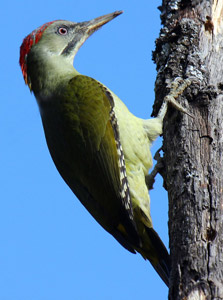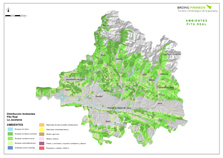 SCIENTIFIC NAME: Picus viridis
FAMILY: Picidae
DESCRIPTION: Noted for its large size and green plumage on its back, yellow rump and red crown. Its low-level undulating flight is also quite distinctive. It is a member of the woodpecker family Picidae.

LOCAL STATUS: R Nr (Resident, breeds regularly)
FIABILIDAD REPRODUCCIÓN: Cría segura
REPRODUCTIVE: Yes

LOCAL STATUS: Resident
MONTHS : All
ECOSYSTEMS: Forest
DIET AND FEEDING: It is normally found on the forest edge near open country. It feeds on ants, which it catches either on the trees or on the ground thanks to its long tongue, being a real expert at poking about in ant hills and termite mounds.
HABITS: The Green Woodpecker is the most common and widely distributed woodpecker in La Jacetania, occupying all types of woodland up to altitudes of 1800 metres. It is a sedentary species that spends the whole year in the same territory.

THREAT OF EXTINCTION + CRITERION: CNEA (National Catalogue of Endangered Species): Not classified: CREA: Not included.
ROUTES: 1 (Zuriza - río Veral), 2 (Gamueta - Linza) 3 (Zuriza - Achar de Alano), 4 (Selva de Oza), 6 (Valle de la Garcipollera), 10 y 11 (Scrubland of the River Aragón).
SPATIAL DISTRIBUTION: Riverside woodland, submediterranean woodland, montane dry woodland, montane wet forests, subalpine forests of black pine.