Searching Birdingpirineos.com
BIRDS, ECOSYSTEMS and BEST SEASONS
Define search criteria: birds, ecosystems or seasons and consult the Birding Pyrenees database.
Yellow-billed Chough
Ecosystems: SUB-ALPINE / ALPINE
Seasons: January | February | March | April | May | June | July | August | September | October | November | December |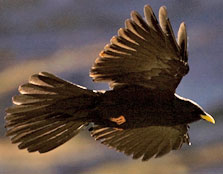 SCIENTIFIQUE NAME: Pyrrhocorax graculus
FAMILY: Corvidae
STATUS IN ARAGON: R Nr
BREEDING PROBABILITY: Breeding highly likely
BREEDING: Yes
LOCAL STATUS: Resident
ECOSYSTEM: Alpine
MONTHS: All
EXTINCTION RISK + CRITERIA: National Catalogue of Endagered Species: Not classified. Regional Catalogue of Endagered Species: Not included.
BIRDING ROUTES: 3 (Achar de Alano), 7 (las Blancas-Refugio López Huici), 8a (Somport-Paso de Aspe), 8b (Canal Roya-Anayet)
SPATIAL DISTRIBUTION: Highland Mediterranean scrub, grasslands and stony ground, and alpine and sub-alpine and sub-alpine cliffs and crags, urban environments, open cultivated country