Searching Birdingpirineos.com
BIRDS, ECOSYSTEMS and BEST SEASONS
Define search criteria: birds, ecosystems or seasons and consult the Birding Pyrenees database.
Common Crossbill
Ecosystems: FOREST
Seasons: January | February | March | April | May | June | July | August | September | October | November | December |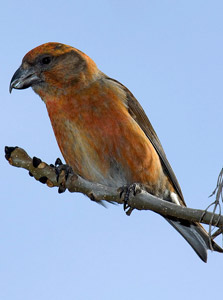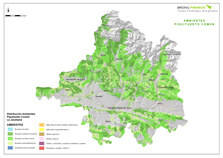 SCIENTIFIC NAME: Laxia curvirostra
FAMILY: Fringillidae
DESCRIPCIÓN: A species of the finch family Fringillidae (Canaries, European Serins, Goldfinches, etc.), with a robust body and large head. Crossbills are the only birds having crossed mandibles. Males are red, females are green and juveniles have greyish, highly streaked plumage.
LOCAL STATUS: R Nr
BREEDING PROBABILITY: Breeding highly likely
REPRODUCTIVE: Yes

LOCAL STATUS: Resident
MONTHS : All
ECOSYSTEMS: Forest
DIET AND FEEDING: The Common Crossbill is found in conifer woods, both in highland and lowland areas. It is a bird that feeds exclusively on cones from pine and fir trees. To do so, it uses its crossed mandibles like pincers, as a tool to open the conifer cones and extract the seeds.
HABITS: It can nest in any month of the year, but lays its eggs in February. The young leave the nest in April, when the seeds on the conifers ripen. The Common Crossbill makes long flights over the forests and is easily detected thanks to its call, which is similar to the Greenfinch's. It can be found living in most parts of Europe. In the Pyrenees it nests in Scots pine and black pine forests, at altitudes of up to 2000 metres. It is basically a sedentary bird, but there can be full-scale migrations due to a lack of food.
THREAT OF EXTINCTION + CRITERION: CNEA (National Catalogue of Endangered Species): Not classified: CREA: Not included.
ROUTES: 3 (Zuriza - Achar de Alano), 4 (Selva de Oza), 6 (Valle de la Garcipollera), 7 (Las Blancas), 8a (Somport -Chorrota de Aspe)
SPATIAL DISTRIBUTION: Submediterranean woodland, montane dry woodland, montane wet forests and subalpine valley floor (black pine).