Searching Birdingpirineos.com
BIRDS, ECOSYSTEMS and BEST SEASONS
Define search criteria: birds, ecosystems or seasons and consult the Birding Pyrenees database.
Great Spotted Woodpecker
Ecosystems: RIPARIAN
Seasons: January | February | March | April | May | June | July | August | September | October | November | December |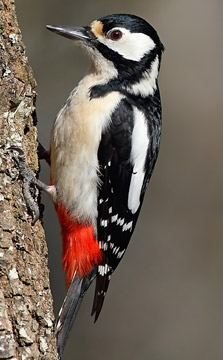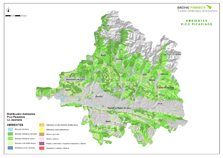 SCIENTIFIC NAME: Dendrocopos major
FAMILY: Picidae
DESCRIPTION:
The Great Spotted Woodpecker is one of the most common woodpeckers and is found all over Europe. It has a white belly with a red patch under the tail, without any bars. The female does not have the red patch on the nape which is characteristic of the male. Its call is short and repetitive. It is prone to short, sharp drumming on trees and branches.
STATUS IN ARAGON: R Nr (Resident, breeds regularly)
BREEDING PROBABILITY: Breeding highly likely
REPRODUCTIVE: Yes

LOCAL STATUS: Resident
MONTHS: All
ECOSYSTEMS: Forest
DIET AND FEEDING: It uses its long bill to search for insects and larvae in the bark of trees, which making up a large part of its diet. With the harsh winter, all the insects disappear, leaving it to feed on acorns and hazelnuts and occasionally boring holes in tree trunks to extract the sap.
HABITS: It has an extensive habitat since it can work with many types of wood. Hence, it can live in any type of woodland, from low altitudes to the highest limits of the forest cover. It builds its nest inside a hole bored in the tree trunk by both male and female round about the month of May. The chicks begin to leave the nest in mid-July.
THREAT OF EXTINCTION + CRITERION: CNEA (National Catalogue of Endangered Species): Not classified: CREA: Not included
ROUTES: 1 ( Zuriza - River Veral), 2 (Gamueta - Linza), 3 (Zuriza - Achar de Alano), 4 (Selva de Oza), 6 (Garcipollera Valley), 7 (Las Blancas), 10 (Scrubland of the River Aragón)
SPATIAL DISTRIBUTION: Riverside woodland, submediterranean woodland, montane dry woodland, montane wet forests.