Searching Birdingpirineos.com
BIRDS, ECOSYSTEMS and BEST SEASONS
Define search criteria: birds, ecosystems or seasons and consult the Birding Pyrenees database.
White-backed Woodpecker
Ecosystems: FOREST
Seasons: January | February | March | April | May | June | July | August | September | October | November | December |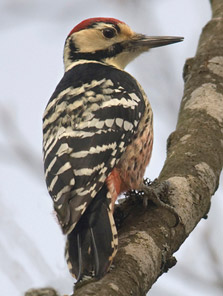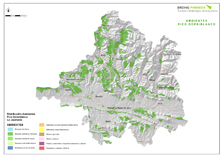 SCIENTIFIC NAME: Dendrocopos leucotos
FAMILY: Picidae
DESCRIPTION:
The White-backed Woodpecker can be distinguished from the Great Spotted Woodpecker by the pattern on its back, which has white horizontal bars without the two huge vertical white patches. The male has a red crown, and barred underparts with a pinkish tinge. It has a similar call, though somewhat longer and slower. Its frequent drumming starts out very loud and then softens as it speeds up towards the end.
STATUS IN ARAGON: R nr (Resident, breeds regularly)
BREEDING PROBABILITY: Breeding highly likely
REPRODUCTIVE: Yes

LOCAL STATUS: Resident
MONTHS: All
ECOSYSTEMS: Forest
DIET AND FEEDING: Insects, larvae and occasionally fruit and berries.
HABITS: The least common of the woodpeckers and one of the most highly threatened birds in Europe, due to the fact that it only inhabits mature woodland enjoying efficient conservation with an abundance of dead wood. In Spain it is only present in the woodlands of Gamueta (Huesca) and in Irati (Navarra).
THREAT OF EXTINCTION + CRITERION: CNEA (National Catalogue of Endangered Species): Threatened with extinction CREA: Threatened with extinction Red list: Vulnerable
ROUTES: 2 (Gamueta - Linza) and 3 (Zuriza - Achar de Alano).
SPATIAL DISTRIBUTION: Montane wet forests.