Searching Birdingpirineos.com
BIRDS, ECOSYSTEMS and BEST SEASONS
Define search criteria: birds, ecosystems or seasons and consult the Birding Pyrenees database.
White-throated Dipper
Ecosystems: RIPARIAN
Seasons: January | February | March | April | May | June | July | August | September | October | November | December |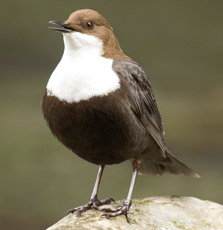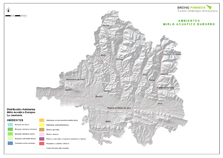 SCIENTIFIC NAME: Cinclus cinclus
FAMILY: Cinclidae
DESCRIPTION:
The White-throated Dipper is easily recognisable by its plump belly and short tail. It is coffee-coloured on the back, with a white breast and chestnut underparts. It flies in a swift, low line over water. The bird's sharp metallic call can be heard from a great distance.
STATUS IN ARAGON: R Nr (Resident, breeds regularly)
BREEDING PROBABILITY: Breeding highly likely
REPRODUCTIVE: Yes

LOCAL STATUS: Riparian
MONTHS: All
ECOSYSTEMS: Forest - Riverside
DIET AND FEEDING: The Dipper lives near rivers and streams of clean, fast-flowing water. Its diet consists of insects, larvae, molluscs and fish roe, which it catches by diving below the water's surface.
HABITS: It can be found all over Europe in mountain areas. In La Jacetania it makes its nest above 2000 metres and can even visit mountain lakes up in the highlands. In winter the Dipper descends from the highlands but remains only a short distance from its breeding ground. Its presence in the area is evidence of good water quality and relatively undisturbed habitat. Forever watching the river, it can normally be found perched on a stone in the water, bobbing up and down and cocking its tail. It builds its nest on the riverbank, or even behind a waterfall.
THREAT OF EXTINCTION + CRITERION: CNEA (National Catalogue of Endangered Species): Not classified: CREA: Not included
ROUTES: 1 (Zuriza - River Veral) and 9 (Santa Engrazia - Foz de Biniés)
SPATIAL DISTRIBUTION: High mountain rivers.