Searching Birdingpirineos.com
BIRDS, ECOSYSTEMS and BEST SEASONS
Define search criteria: birds, ecosystems or seasons and consult the Birding Pyrenees database.
Common Kingfisher
Ecosystems: RIPARIAN
Seasons: January | February | March | April | May | June | July | August | September | October | November | December |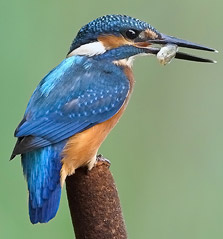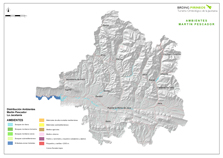 SCIENTIFIC NAME: Alcedo atthis
FAMILY: Alcedinidae
DESCRIPTION:
Very distinctive with its colourful plumage, the Common Kingfisher is easy to recognise because of its swift, low-level flight over the water, highlighting its turquoise back and the orange tinges on its underparts. The bird's morphology is adapted to catch small fish under the water with its powerful, long bill. It can often be seen perched in the shade on a branch sticking out of the water where it remains without moving. In flight it moves swiftly, batting its wings vigorously and keeping close to the water, while whistling loudly.
STATUS IN ARAGON: Ri Nr (Resident, Winter visitor – Breeds regularly)
BREEDING PROBABILITY: Breeding highly likely
REPRODUCTIVE: Yes

LOCAL STATUS: Riparian
MONTHS : All
ECOSYSTEMS: Riparian
DIET AND FEEDING: The Common Kingfisher prefers clear water to catch fish (measuring up to 6 cm in length), insects and aquatic larvae. Before swallowing its prey, it beats it several times against the rocks or ground to make sure it is dead.
HABITS: In autumn, from September to November, a significant number of Common Kingfishers migrate from northern countries crossing over the Pyrenees. However, in the winter many of the birds nesting in the Pyrenees leave the mountains and move to more southerly latitudes. The nest is built preferably in a burrow dug in walls or sandy riverbanks. The kingfisher requires a certain quality of water and surrounding vegetation that is dense enough to provide for its residence.
THREAT OF EXTINCTION + CRITERION: CNEA (National Catalogue of Endangered Species): Not classified: CREA: Not included
ROUTES: 10 and 11 (Scrubland along the River Aragón)
SPATIAL DISTRIBUTION: Riverside woodland, low stretches of river, lakes and wetlands.