Searching Birdingpirineos.com
BIRDS, ECOSYSTEMS and BEST SEASONS
Define search criteria: birds, ecosystems or seasons and consult the Birding Pyrenees database.
Crested Tit
Ecosystems: FOREST
Seasons: January | February | March | April | May | June | July | August | September | October | November | December |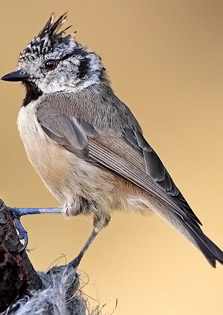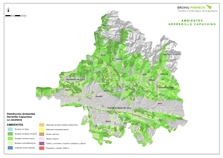 SCIENTIFIC NAME: Lophophanes cristatus
FAMILY: Paridae
DESCRIPTION:
The Crested Tit is easy to recognise by the feathers at the back of the head, in the shape of a crest. Its plumage is primarily brown with a black bib and collar over its greyish upperparts, making it very different from the rest of the Iberian tits.
STATUS IN ARAGON: R Nr (Resident, breeds regularly)
BREEDING PROBABILITY: Breeding highly likely
REPRODUCTIVE: Yes

LOCAL STATUS: Resident
MONTHS : All
ECOSYSTEMS: Forest
DIET AND FEEDING: Very agile and restless, the Crested Tit often hangs upside down while foraging for food (seeds, spiders and insects).
HABITS: It is associated with coniferous woodland (Scots pine, black pine, fir trees). and has a warning call that is distinctive, with a cheerful, bubbly trill. It makes its nest inside holes in the trunks and branches of trees from moss and spider's webs, with a woven inner lining of feathers and wool. Each year it builds a new nest.
THREAT OF EXTINCTION + CRITERION: CNEA (National Catalogue of Endangered Species): Not classified: CREA: Not included
ROUTES: 3 (Zuriza - Achar de Alano) and 13 (San Juan de la Peña).
SPATIAL DISTRIBUTION: Submediterranean woodland, montane dry woodland, montane wet forests and subalpine valley floor (black pine).