Searching Birdingpirineos.com
BIRDS, ECOSYSTEMS and BEST SEASONS
Define search criteria: birds, ecosystems or seasons and consult the Birding Pyrenees database.
Snowfinch
Ecosystems: SUB-ALPINE / ALPINE
Seasons: January | February | March | April | May | June | July | August | September | October | November | December |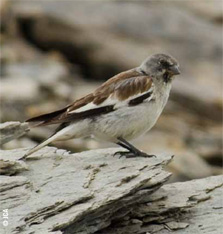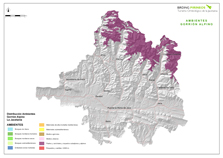 SCIENTIFIC NAME: Montifringilla nivalis
FAMILY: Passeridae
DESCRIPTION: White-winged snowfinches are larger and slimmer than House Sparrows. In flight the black tip of the wings and centre part of the tail are visible, against a stunning white wing panel. In summer, the beak and throat turn black, whereas in winter they are a pale colour. It is the only species of Passeriforme that can endure the rigours of winter in the high mountains. If conditions are particularly harsh (huge snowfalls and blizzards), they move to lower altitudes without fully abandoning the inner valleys of the Pyrenees.
STATUS IN ARAGON: R Nr (Resident, breeds regularly)
BREEDING PROBABILITY: Breeding highly likely
REPRODUCTIVE: Yes
LOCAL STATUS: Resident
MONTHS : All
ECOSYSTEM: Alpine
DIET AND FEEDING: In spring they feed on insects and spiders living in the grasslands, along with seeds and pine cones. When the ice and snow cover these areas, the White-winged Snowfinch feeds on seeds on the edge of the alpine woodlands.
HABITS: A bird that is closely associated with mountain peaks and snow fields. Climate change, and hence receding snow fields in the Pyrenees due to rising temperatures, could lead to a significant reduction in the medium to long term in the number of birds that currently live there. When food is scarce in the middle of winter, it is common to see it foraging around ski resorts and mountain refuges in search of organic waste The Snowfinch nests in rocky crevices at an altitude of 2000 metres in the month of May, with the chick leaving the nest within about three weeks.
THREAT OF EXTINCTION + CRITERION: CNEA (National Catalogue of Endangered Species): Not classified: CREA: Not included
ROUTES: 3 (Zuriza - Achar de Alano), 7 (Las Blancas), 8a (Canal Roya) and 8b (Somport - Chorrota de Aspe)
SPATIAL DISTRIBUTION: Grasslands and stony ground, and alpine and subalpine cliffs and crags.