Searching Birdingpirineos.com
BIRDS, ECOSYSTEMS and BEST SEASONS
Define search criteria: birds, ecosystems or seasons and consult the Birding Pyrenees database.
Grey Heron
Ecosystems: GRASSLANDS, MEADOWS AND FARMLAND
Seasons: January | February | March | April | May | June | July | August | September | October | November | December |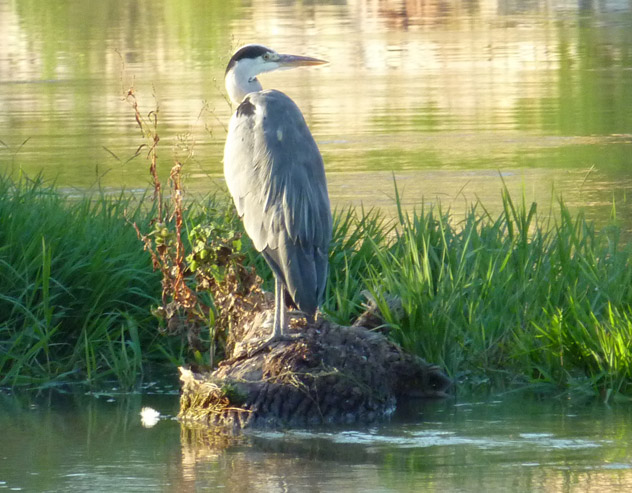 SCIENTIFIC NAME: Ardea cinerea
FAMILY: Aredeidae
DESCRIPTION: The Grey Heron is distinguishable thanks to its large size and distinctive plumage. In flight, the bird's neck is always pulled back in the shape of an S, and it engages in an incessant, slow, heavy beating of its wings. It is common to see its motionless profile on the river bank waiting to catch a fish at great speed in its strong beak.
STATUS IN ARAGON: Ri Nr (Resident, Winter visitor – Breeds regularly)
BREEDING PROBABILITY: Breeding highly likely
REPRODUCTIVE: Yes
LOCAL STATUS: Resident
MONTHS : All
ECOSYSTEM: Riverside and pasturelands, meadows, and farmlands.
DIET AND FEEDING: It tends to haunt wide rivers, lakes, canals and all types of bodies of freshwater, whilst also frequenting farmland to forage for food. Its diet is based on fish, frogs, small mammals, crustaceans and insects.
HABITS: The Grey Heron is the most widely distributed wading bird in Europe. Although this species mainly visits La Jacetania in the winter, some individuals remain throughout the entire year. In autumn they usually arrive from the north and stay until March or April.
THREAT OF EXTINCTION + CRITERION: CNEA (National Catalogue of Endangered Species): Not classified: CREA: Not included
ROUTES: 10 and 11 (Scrubland along the River Aragón)
SPATIAL DISTRIBUTION: Lakes and wetlands, riverside woodland, high and low stretches of river, and open cultivated lands.