Searching Birdingpirineos.com
BIRDS, ECOSYSTEMS and BEST SEASONS
Define search criteria: birds, ecosystems or seasons and consult the Birding Pyrenees database.
Northern Wheatear
Ecosystems: GRASSLANDS, MEADOWS AND FARMLAND
Seasons: March | April | May | June | July | August | September | October |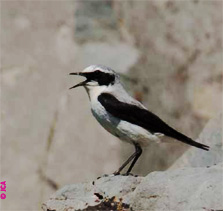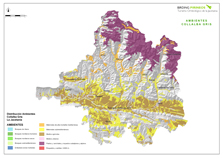 SCIENTIFIC NAME: Oenanthe oenanthe
FAMILY: Turdidae
DESCRIPTION: Long-distance migrant, returning to La Jacetania each spring from its winter quarters in Sub-Saharan Africa. The male has a very striking black, white and grey plumage, especially in its tail, while the female has an ochre or pale brown colouring without the black face mask. The Wheatear occupies open spaces, such as pastures and meadows with rocks on which it can perch. It starts to call out with a chack noise as a warning when approached too close to its territory.
STATUS IN ARAGON: EP Nr (Summer visitor, Passage – Breeds regularly)
BREEDING PROBABILITY: Breeding highly likely
REPRODUCTIVE: Yes
LOCAL STATUS: Summer visitor
MONTHS : March to October
ECOSYSTEM: Pastures, meadows and crops. - Alpine
DIET AND FEEDING: Insects, larvae, some spiders, centipedes, snails, etc.
HABITS:The Wheatear lives in open country occupying a large variety of habitats. In early March it arrives at its breeding grounds from Sub-Saharan Africa.
THREAT OF EXTINCTION + CRITERION: CNEA (National Catalogue of Endangered Species): Not classified: CREA: Not included
ROUTES: 3 (Zuriza - Achar de Alano), 7 (trail leading to Las Blancas), 8a (Somport - Chorrota de Aspe)
SPATIAL DISTRIBUTION: Mediterranean scrubland, open cultivated land, high mountain scrubland, subalpine and alpine rock faces and stony outcrops.