Searching Birdingpirineos.com
BIRDS, ECOSYSTEMS and BEST SEASONS
Define search criteria: birds, ecosystems or seasons and consult the Birding Pyrenees database.
Crested Lark
Ecosystems: GRASSLANDS, MEADOWS AND FARMLAND
Seasons: January | February | March | April | May | June | July | August | September | October | November | December |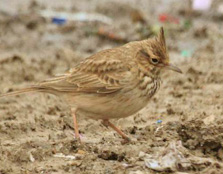 SCIENTIFIC NAME: Galerida cristata
FAMILY: Alaudidae
DESCRIPTION: Very long, thin beak and spiky erectile crest. Greyish-brown colouring on upperparts and lighter streaking on its breast and flanks, with off-white underparts. It usually sings on the ground or perched on heaps of stones, in bushes, etc. The Crested Lark lives at the edge of roads and trails, on farms or on the outskirts of towns and villages. Its song is melodious and high-pitched.
STATUS IN ARAGON: R Nr (Resident, breeds regularly).
BREEDING PROBABILITY: Breeding highly likely
REPRODUCTIVE: Yes
LOCAL STATUS: Resident
MONTHS : All
ECOSYSTEM: Pastures, meadows and crops
DIET AND FEEDING: Invertebrates, seeds, leaves and shoots. It is common to see it foraging for seeds in the faeces of other animals such as horses.
HABITS: A ground-nesting bird, with both sexes taking part in rearing the chicks.
THREAT OF EXTINCTION + CRITERION: CNEA (National Catalogue of Endangered Species): Not classified: CREA: Not included
ROUTES: 9 (Santa Engracia - Foz de Biniés) 10 and 11 (Scrubland along the River Aragón)
SPATIAL DISTRIBUTION: Subterranean scrubland and open cultivated country.