Searching Birdingpirineos.com
BIRDS, ECOSYSTEMS and BEST SEASONS
Define search criteria: birds, ecosystems or seasons and consult the Birding Pyrenees database.
Marsh Tit
Ecosystems: FOREST
Seasons: January | February | March | April | May | June | July | August | September | October | November | December |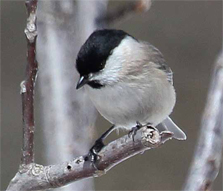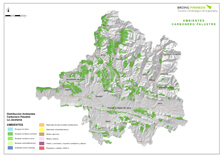 SCIENTIFIC NAME: Parus palustris
FAMILY: Paridae
DESCRIPTION: A bright black crown and a small black "bib" with white cheeks. The brown colouring on its wings is also very even and typical of the Marsh Tit, which lacks the characteristic white edges displayed by the Coal Tit or Great Tit.
STATUS IN ARAGON: R Nr (Resident, breeds regularly)
BREEDING PROBABILITY: Breeding highly likely
REPRODUCTIVE: Yes
LOCAL STATUS: Resident
MONTHS : All
ECOSYSTEM: Forest
DIET AND FEEDING: The Marsh Tit feeds on the insects it finds crawling on the bark of trees and also on seeds, and is possibly the member of the tit family Pardae with the most vegetable components in its diet.
HABITS: Despite its name, it does not frequent marshy areas (wetlands, lakes and tarns). It lives in groves of beech and oak, and mixed forests abounding in dry leaves and necromass (dead or decomposing trees), and is forever on the lookout for cool, wet environments.
THREAT OF EXTINCTION + CRITERION: CNEA (National Catalogue of Endangered Species): Not classified: CREA: Not included
ROUTES: 1 (Zuriza - River Veral), 2 (Gamueta woodland - Linza) and 3 (Zuriza – Achar de Alano)
SPATIAL DISTRIBUTION: Montane wet forests (fir and beech groves).