Searching Birdingpirineos.com
BIRDS, ECOSYSTEMS and BEST SEASONS
Define search criteria: birds, ecosystems or seasons and consult the Birding Pyrenees database.
Coal Tit
Ecosystems: FOREST
Seasons: January | February | March | April | May | June | July | August | September | October | November | December |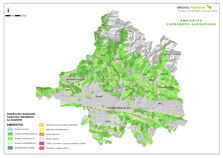 SCIENTIFIC NAME: Parus ater
FAMILY: Paridae
DESCRIPTION: A small bird with tinges of grey on its back and an ochre-coloured breast. It is easy to recognise because of it relatively large head and the white stripe across its nape. It has a black crown over its eyes and another black streak running from its chin down to its throat.
STATUS IN ARAGON: R Nr (Resident, breeds regularly)
BREEDING PROBABILITY: Breeding highly likely
REPRODUCTIVE: Yes
LOCAL STATUS: Resident
MONTHS : All
ECOSYSTEM: Forest
DIET AND FEEDING: Mainly spiders, insects and larvae. The Coal Tit likes to store food in temporary larders to get through periods when food is thin on the ground without the need to move.
HABITS: It lives in all types of pine and fir tree forests in the Pyrenees. It is not common in other types of woodland, although it can be found in stands of oak, beech, kermes oak and, more regularly, in mixed woodland areas of Scots pine and gall oak. The Coal Tit is a very active bird that goes through some real acrobatics when exploring the branches, leaves and pine cones of the tree it is in.
THREAT OF EXTINCTION + CRITERION: CNEA (National Catalogue of Endangered Species): Not classified: CREA: Not included
ROUTES: 3 (Zuriza - Achar de Alano) and 13 (San Juan de la Peña).
SPATIAL DISTRIBUTION: Submediterranean woodland, montane dry woodland, montane wet forests and subalpine valley floor (black pine).