Searching Birdingpirineos.com
BIRDS, ECOSYSTEMS and BEST SEASONS
Define search criteria: birds, ecosystems or seasons and consult the Birding Pyrenees database.
Great Tit
Ecosystems: RIPARIAN
Seasons: January | February | March | April | May | June | July | August | September | October | November | December |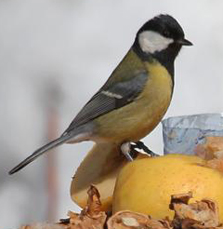 SCIENTIFIC NAME: Parus major
FAMILY: Paridae
DESCRIPTION: The Great Tit is the largest member of the tit family Paridae. It has a very distinctive appearance: bright yellow underparts, a black head, neck and "bib" and prominent white cheeks. The female has a narrower "bib" and juveniles have softer yellow markings.
STATUS IN ARAGON: R Nr (Resident, breeds regularly).
BREEDING PROBABILITY: Breeding highly likely.
REPRODUCTIVE: Yes
LOCAL STATUS: Resident
MONTHS : All
ECOSYSTEM: Forest - Riverside
DIET AND FEEDING: The Great Tit is insectivorous by nature although it includes blackberries and elderberries in its diet in autumn.
HABITS: It can be found in all types of woodland and groves of trees, although it has a preference for dense forests with clearings. However, it also lives in scrubland, parks, gardens and orchards, and can even be found in urban areas. It is somewhat scarce in the pine and black pine forests of the highlands, where the Coal Tit is a more frequent visitor. At the beginning of spring it can be easily identified by its repetitive "teacher-teacher" call, which fills the entire woodland.
THREAT OF EXTINCTION + CRITERION: CNEA (National Catalogue of Endangered Species): Not classified: CREA: Not included
ROUTES: 1 (Zuriza - River Veral), 2 (Linza - Gamueta), 3 (Zuriza - Achar de Alano) and 13 (San Juan de la Peña); It is possible to hear it along most of the routes.
SPATIAL DISTRIBUTION: Submediterranean scrubland, submediterranean woodland, montane dry woodland, montane wet forests, subalpine valley floor (black pine) and riverside woodland.