Searching Birdingpirineos.com
BIRDS, ECOSYSTEMS and BEST SEASONS
Define search criteria: birds, ecosystems or seasons and consult the Birding Pyrenees database.
Bullfinch
Ecosystems: RIPARIAN
Seasons: January | February | March | April | May | June | July | August | September | October | November | December |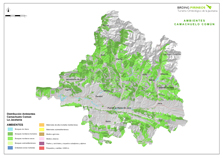 SCIENTIFIC NAME: Pyrrhula pyrrhula
FAMILY: Fringillidae
DESCRIPTION: A small bulky woodland bird with a black head and a blackish-grey back with white markings. The underparts are bright red in males and buff in females. Whilst shy by nature, Bullfinches are easy to locate because of their soft and somewhat monotonous fluted whistle. They can normally be seen in areas with an abundance of shrubs and bushes marking the boundary between woods and meadows.

STATUS IN ARAGON: Ri Nr (Resident, Winter visitor – Breeds regularly)
BREEDING PROBABILITY: Breeding likely
REPRODUCTIVE: Yes
LOCAL STATUS: Resident
MONTHS : All
ECOSYSTEM: Forest - Riverside
DIET AND FEEDING: The Bullfinch feeds on buds and shoots, and the occasional insect in spring and summer, whilst its winter diet consists mainly of berries and seeds.
HABITS: It makes its nest in evergreen bushes, using small twigs, moss and lichen. In late winter it can be seen in gardens and orchards where it pecks off the buds on fruit trees such as peach and plum trees.
THREAT OF EXTINCTION + CRITERION: CNEA (National Catalogue of Endangered Species): Not classified: CREA: Not included
ROUTES: 8b (Canal Roya) y 13 (San Juan de la Peña)
SPATIAL DISTRIBUTION: Montane dry woodland, montane wet forests, and riverside woodland.