Searching Birdingpirineos.com
BIRDS, ECOSYSTEMS and BEST SEASONS
Define search criteria: birds, ecosystems or seasons and consult the Birding Pyrenees database.
Water Pipit
Ecosystems: SUB-ALPINE / ALPINE
Seasons: January | February | March | April | May | June | July | August | September | October | November | December |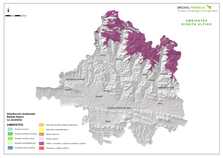 SCIENTIFIC NAME: Anthus spinoletta
FAMILY: Motacillidae
DESCRIPTION: This is a small bird adapted to the alpine meadows and life at ground level. In summer it lives in wet alpine pasturelands and on the valley floor in winter. It has a predominantly grey plumage, with a long, thin beak and a white-tipped tail. Its song, which is generally emitted on the wing, is composed of several elements that descend in repetitive trills. Spring is its breeding season, when the whole population gathers in the meadows of the Pyrenees, at altitudes ranging from 1500 to 2400 metres.

STATUS IN ARAGON: Ri Nr (Resident, Winter visitor – Breeds regularly)
BREEDING PROBABILITY: Breeding highly likely
REPRODUCTIVE: Yes
LOCAL STATUS: Resident
MONTHS: All
ECOSYSTEMS: Alpine
DIET AND FEEDING: Insectivorous species, which can occasionally also be found feeding on seeds .
HABITS: The female builds a cup-shaped nest on the ground with walls made of leaves and grass. Once or twice a year it lays a clutch of four to six eggs and incubates them for a period of two weeks. After 15 days the chicks are able to fend for themselves.

THREAT OF EXTINCTION + CRITERION: CNEA (National Catalogue of Endangered Species): Not classified: CREA: Not included
ROUTES: 3 (Zuriza - Achar de Alano), 7 (Las Blancas) and 8 (Somport / Canal Roya)
SPATIAL DISTRIBUTION: Grasslands and stony ground, and alpine and subalpine cliffs and crags.